Profile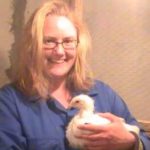 Louise Pendry
Favourite thing to do in my job: Chickens rock!

My Work

I ask really hungry chickens what they want to eat…

Read more

Where I work, animal welfare scientists want to make the lives of farm animals better. We work on cows, sheep, pigs and chickens. We record their behaviour in different situations and see how they perform in tests (yes – animals get tests too!). We also measure their physiology to look for other signs of ill-health or stress. Sometimes this means standing behind a cow with a dish and waiting for her to poo or trying to collect animal spit.
My job involves working with the parents of meat chickens. These are called broiler breeders. They have abnormal appetites and just keep eating until they are so fat that they die. So they have to be fed much less food then they want. This means they are always very hungry. Hunger is a major welfare issue for broiler breeders. My bosses have created a special food that they can eat all day but not get fat. We think it makes them feel less hungry. The problem is we don't know for sure. If it does the chickens should prefer this new food. My job is to ask the chickens. Unfortunately because chickens cannot speak I have to find other ways to get them to tell me what they want.
I use a T-maze to find out. This is a maze shaped like a T (or a Y). It is a very common way of finding out what animals want. The test is called a choice test. Scientists assume that the option preferred by the animal will improve its welfare. This might not always be the case though – can you think of reasons why not? In my T-maze, I paint the two shorter arms different colours and put different types of food at the ends e.g. Black arm = food A and White arm = food B. I then teach the birds to associate the food with its colour and then I let them choose – black end versus white arm. If they pick the black arm almost all the time I know they prefer food A.
Alas, what I have found out is my chickens are way too hungry to think properly – so they often fail their tests… I am now thinking of other ways to find out and I would love your help! A chicken deciding which way to go in a maze
Sometimes its hard knowing which way to go…. but she finally makes the right choice! (Warning: poor quality video)


My Typical Day

There is no typical day! Training chickens…. designing experiments…. making sense of my data

Read more

When I am running an experiment my life revolves around the chicken shed – Louise's chicken cognition lab 🙂 I get my birds as day old chicks so I spend lots of time getting them confident being handled. This is so they won't be scared when I train and test them. A stressed animal does not perform well. I then train and test them in the T – maze. This involves putting lots of chickens in the maze lots of times every day (for several weeks) and recording their choices.
When the experiment is over, I get to play with my 'raw data' and try to work out what it tells me. I meet with our statistician (who is very good at maths) who helps me (lots – I find maths hard). I convert this data into graphs and tables and do complicated probability calculations (well, sort of – the computer does it for me). This is to find out what the probability is that e.g. my chickens would pick the black option 30 out of 35 times if it did not prefer the food found at the end of the black arm. If the probability is less than 1 in 20 this means they probably do prefer this food. We call this a significant result.
Scientists get very excited by significant results which I think is funny because even results which are not statistically significant are useful. But I get excited too 🙂
Finally, I have to find ways to tell people what I have found. The most common way is to publish a 'paper'. This is basically an essay that tells other scientists why you did the research, how you did it, what you found and what you think it means. So I also have to do lots of writing.
We also go to scientific conferences to present our work to other scientists. In April I am going to a conference in Belfast to talk about my work with chickens. I like this bit the least as I am scared of talking in public and would rather hide in the toilets 🙁 . Lots of scientists secretly feel like this. But it is also kind of exciting to share your findings too – especially because you now know something nobody else knows! It is important to share this info. If people don't know then your science is never going to make a difference. It also means scientists get to meet other scientists, exchange ideas and party (often overseas)!

What I'd do with the prize money

Use the money to buy more cockroaches (and related stuff)!

Read more

Last year I got involved with a project at Uni called Kick-start ( www.sra.ed.ac.uk/kickstart/ ). This is a project that gives young people a taster of what going to Uni is like. I ran an animal behaviour and welfare workshop and students got to design and carry out their own experiments. They were trying to find out how Madagascan Hissing Cockroaches like to live. They used the same tests and methods we use at work so it was good practice! How big is this 'Hisser'??? These might look icky but 'Hisser's' are great animals to begin 'doing' behavioural research – they are easy to handle and don't bite! The workshop went really well but there wasn't enough space for all the students who wanted to do it. This year I would like to make my workshop bigger and better. I would also like to take the workshop into Youth Clubs or schools. These workshops are important because they help animals by getting young people like you interested in becoming animal welfare scientists. I was 24 before I even found out that there was a job called Animal Welfare Scientist – I might not have skivved off science if I'd known!!!

My Interview

How would you describe yourself in 3 words?

Bonkers but nice

What's the best thing you've done in your career?

LOL -probably coming on here to make amends to science teachers everywhere for being so naughty at school… Seriously though, if I can inspire just one of you to become an animal welfare scientist I'll be dead chuffed.

Were you ever in trouble at school?

More often than I wasn't! I was more interested in boys than biology and had to re-sit science at college.

Who is your favourite singer or band?

Erm… really really really into Glee at the moment so any cover by Glee Cast is good by me – I even work with Glee playing in the background…

What is the most fun thing you've done?

Entering the "Eurovision-Endurance Competition" at Uni. It was so totally gross it was fun – except for picking maggots off my face!

If you had 3 wishes for yourself what would they be? - be honest!

I'd wish… 1) to own a horse (a black & white gypsy cob with really hairy legs) 2) to win stacks of money and open an animal rescue centre 3) that all my friends lived next door to me so I could see them all the time!

Tell us a joke.

How did they know the shark attack victim had dandruff? They found his 'head and shoulders' on the beach!